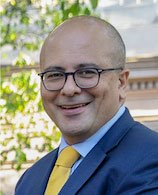 Dr. Jeffrey Hammoudeh is board certified in both oral and maxillofacial surgery as well as plastic surgery and holds faculty appointments at both the Keck School of Medicine of USC and the USC School of Dentistry. Dr. Hammoudeh earned a double doctorate in medicine and dentistry at Northwestern University, then he completed surgical internships in oral and general surgery at Northwestern Memorial Hospital and the University of Miami. He completed his general surgery prerequisites at Massachusetts General Hospital before completing his oral and maxillofacial surgery residency at the Harvard Program. Subsequently, he went to Jackson Memorial Hospital and completed formal training in plastic and reconstructive surgery, whereupon, he completed a fellowship in pediatric plastic and craniofacial surgery at Children's Hospital Los Angeles. His interests include craniofacial surgery, vascular anomalies, orthognathic surgery, reconstructive surgery, as well as adult plastic surgery.
Dr. Jeffrey Hammoudeh is one of the elite oral and maxillofacial surgeons in the United States. He has extensive experience in orthognathic surgery, including correction of dental malocclusion to help reposition and align the upper and lower jaw. Dr. Hammoudeh is also one of only a handful of surgeons that can offer the "surgery first" technique, which is a method of performing formal corrective jaw surgery first and doing orthodontics second.
Dr. Hammoudeh uses modern computer-aided, virtual surgical planning and three-dimensional models to show you exactly how your surgery will be approached. Using comprehensive facial x-rays and computer video imaging, we can show you how your bite will be improved and even give you an idea of how you will look after surgery. This helps you understand the surgical process and the extent of the proposed treatment. If you are a candidate for corrective jaw surgery, Dr. Hammoudeh and his team will work closely with your orthodontist during your treatment.
In addition to treating overbites, underbites, and crossbites, Dr. Hammoudeh is one of a handful of surgeons in the nation to correct moderate-to-severe sleep apnea. The procedure is known as maxillary and mandibular advancement, which is the process of moving the upper and lower jaws forward to increase the airway space. Formal orthognathic surgery has been proven to help alleviate obstructive sleep apnea, therefore eliminating the need for a CPAP device.
Dr. Hammoudeh is a recognized leader in the area of maxillofacial oncology field. He can comprehensively diagnose, treat and surgically intervene all jaw tumors and jaw cancers from its initial stage to reconstruction and rehabilitation. He has authored many book chapters, peer-reviewed journal articles and lectured nationally, as well as internationally.