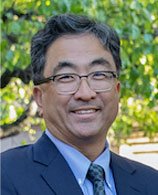 Dr. Mark M. Urata is the Audrey Skirball-Kenis Chair and Chief of the Division of Plastic and Reconstructive Surgery of the Keck School of Medicine of USC. He is also Head of the Division of Plastic and Maxillofacial Surgery at Childrens Hospital Los Angeles and Director of Craniomaxillofacial Surgery at Cedars Sinai Medical Center. Dr. Urata is uniquely qualified with board certification in both oral and maxillofacial surgery as well as plastic surgery and holds faculty appointments at both the Keck School of Medicine of USC and the USC School of Dentistry.
Dr. Urata trained for 18 years following his undergraduate education. He received his dental degree from the USC School of Dentistry and his medical degree from the USC Keck School of Medicine. He completed a residency in oral and maxillofacial surgery before matriculating to general surgery and then completing a residency in plastic and reconstructive surgery at USC. He then moved across town where he completed a fellowship in craniofacial surgery at the University of California, Los Angeles.
He specializes in the most complex craniofacial anomalies, including craniosynostosis, syndromic reconstruction, vascular anomalies, pediatric and adult craniomaxillofacial trauma, post-traumatic reconstruction, orthognathic surgery, and aesthetic surgery of the head and neck and jaw deformities.
Dr. Urata has authored numerous scientific articles and book chapters and has been voted amongst the nation's top surgeons according to multiple sources including U.S. News and World Report, Best Doctors and America's Best Plastic Surgeons. He maintains NIH funded research within the Center for Craniofacial Molecular Biology related to defining TGF Beta signaling in palatogenesis. He is also interested in computerized planning of Le Fort III and orthognathic surgery and outcomes studies on cleft lip and palate.